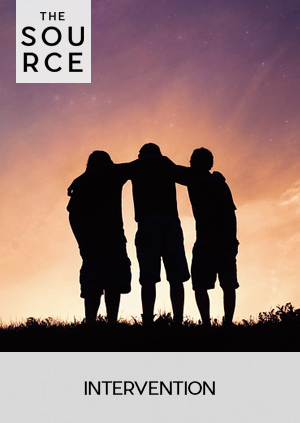 Intervention
With all the noise, distractions and things clawing for our attention in today's society, it is so easy to "lose our way." For many, however, all it takes is for one person in their life to care enough to correct and redirect. This issue of the Source, "Intervention," is about just that. It is designed as an outreach night based on the popular A&E show that goes by the same title. In a similar way that that Antwahn's and Cristine's families hosted interventions for them, we draw the parallel of how the Lord lovingly hosts one for us as well.
Using four "reality checks," the powerful stories of two individuals, a captivating human video to Justin Timberlake's, "Losing My Way," and Naaman's personal intervention recorded in the Bible, we guide students through what hinders people from responding to the Lord's intervention on their behalf. It was a night that drew many to His love for the very first time, and served as a reminder for others of the love they once knew.
Lovingly,

Resource includes...
Complete Package
This package includes all of the below downloads for this resource
Live Youth Service Message Audio

Complete Written Materials
This includes
- Sermon Notes
- Fill-ins
- Creative Elements
- Human Video
- Token Ideas
- Discussion Outline
- Leadership Notes
Discussion Outline

Fill-ins

Powerpoint Presentation

Presentation Slides
Powerpoint Alternative

Audio Preview


Purchase for $5.00
Learn More
or
Purchase for $11.99