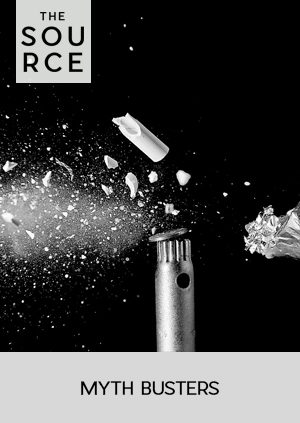 Myth Busters
Did your mom ever tell you not to swallow your gum because your stomach can't digest it? So did mine! Ever heard the one about how using your cell phone in a plane can cause it to crash? Me too! Whether myths like these are fact or fiction intrigue us. I'm sure that's why "MythBusters," the TV show dedicated to revealing the truth of these legendary sayings, is so popular. In this Source, we capitalize on its popularity by revealing four common, but seldom spoken, myths Christians have bought into throughout the centuries.
As you might expect, this is a great outreach night topic. Using four short monologues, we help students visualize these myths and use Scripture to reveal the truth regarding them. We end the night with a dramatic human video and an invitation to follow Christ. The impact of the night was incredible for our students, I'm praying it will be for yours as well.
Lovingly,

Resource includes...
Complete Package
This package includes all of the below downloads for this resource
Live Youth Service Message Audio

Complete Written Materials
This includes
- Sermon Notes
- Fill-ins
- Creative Elements
- Mononlogues
- Human Video
- Token Ideas
- Discussion Outline
- Leadership Notes
Discussion Outline

Fill-ins

Powerpoint Presentation

Presentation Slides
Powerpoint Alternative

Audio Preview


Purchase for $5.00
Learn More
or
Purchase for $11.99