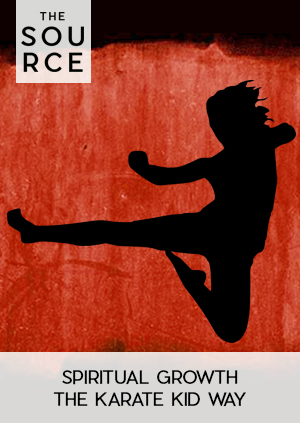 Spiritual Growth The Karate Kid Way
The instruction of Mr. Han to young Dre, "Pick it up...take it down...put it on...take it off...put it on the ground," is sticky. However, it probably hasn't reached the legendary status of Mr. Miyagi's, "Wax on, wax off," in the 1984 box office hit, The Karate Kid. Nevertheless I am a huge fan and, secretly, you probably are too. The spiritual parallels that can be drawn from the movies, especially the new one, make it hard not to love the kid.
Our desire in this Source, "Spiritual Growth The Karate Kid Way," is to provide a biblical road map toward spiritual maturity. The primary highway we travel down on this particular night is one called "character"...choosing to do the right thing in those non-glamorous "bamboo pole moments." Without a doubt, training students to "choose wisely" is one of the greatest gifts we can offer. Using Mr. Han's instruction, video clips, Romans 5:3-4, a statue illustration, and some bamboo poles, we hope to do just that! For we are free up to the point of "choice," but ultimately the "choice" controls the chooser!
Lovingly,

Resource includes...
Complete Package
This package includes all of the below downloads for this resource
Live Youth Service Message Audio

Complete Written Materials
This includes
- Sermon Notes
- Fill-ins
- Creative Elements
- Token Ideas
- Discussion Outline
- Leadership Notes
Discussion Outline

Fill-ins

Powerpoint Presentation

Presentation Slides
Powerpoint Alternative

Audio Preview


Purchase for $5.00
Learn More
or
Purchase for $11.99